A new era of small group benefits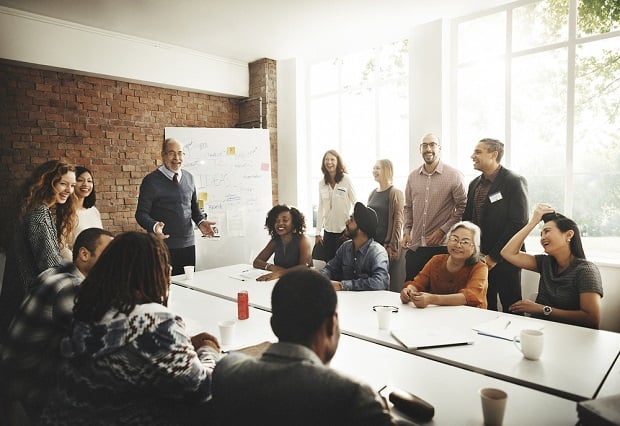 COVID has created a new normal in the benefits world for employers of all sizes and types. Small employers and their employees, and the benefits advisors who work with them, have seen many changes in this area. They have had to adapt to enrolling and administering benefits for a largely remote workforce, relying heavily on technology platforms to streamline and automate these processes. In my opinion, these changes are for the best and will help small businesses attract and retain talent while improving employee morale and financial well-being in an uncertain economic climate.
Here are the three main features of this new era of benefits for small groups:
1) Expanded benefit choices provide financial and physical well-being
The pandemic has made employers of all sizes, including small businesses, realize how important benefits and choices are for employees. Research from Care.com showed that almost all (98%) of executives surveyed plan to offer or extend at least one benefit to employees, prioritizing those that workers deem most essential, such as benefits. child and elder care and expanded mental health support. Interest in pet insurance is also growing, thanks to all those pandemic puppies. A Forbes Advisor survey found that while 50% of pet owners already have insurance, 21% plan to purchase pet insurance in 2022.
Historically, small employers offered only health insurance and a few other benefits, with larger employers offering more choice and strong voluntary benefits. Now, many small employers are offering more benefits options, after realizing that mental health and financial well-being matter a lot. A LIMRA study found that five years from now, 45% of small employers (those with less than 100 employees) plan to offer more benefits than they do now. And 76% of employers of all sizes believe their employees will expect a wider variety of benefits options in the future.
There are also more niche benefit options available to meet individual employee needs. Offerings like Hinge Health, an online platform for musculoskeletal pain treatment, and Ginger, on-demand mental health care, are designed to reduce employer healthcare costs and provide a practical and useful treatment to the employee.
Amid continued inflation and headlines warning of an economic downturn, a broader benefit package is also significant as some families find themselves facing stretched resources. In these cases, having benefits that provide financial protection, such as a hospital expense compensation plan, can be key in the event of a serious illness or unexpected hospitalization. Removing financial stress also boosts employee morale and productivity. According to a PwC study, 12% of employees admit to missing work due to financial stress.
2) Technology and automation are now at your fingertips
To provide a remote benefits enrollment and administration experience, small employers during the pandemic have been racing to adopt modern benefits software like GoCo, Justworks, and Namely. According to a Guardian report, 7 in 10 employers have digitized their benefits enrollment. Like Zoom calls and flexible working hours, this technology is here to stay.
Today's HR and benefits platforms specialize in providing automated, data-driven enrollment and administration experiences, as well as a greater choice of employee benefits. small and medium business market. Historically, these advantages were considered "great group" characteristics. They also dramatically improve the year-round benefits enrollment and management experience for both employer and employee.
Setting up a new human resources and benefits administration platform for small employers is no longer a daunting task. The same Guardian report shows that the average time to set up a platform for companies with less than 50 employees is just two weeks. For employers with 50 to 99 employees, it's four weeks.
3) The benefit experience is getting better for everyone
COVID has heightened consumer expectations for digital experiences, whether at home or at work. In turn, people increasingly want instant access to information about their health insurance and benefits. Enrolling and managing these products — essential for financial and medical protection — should be as easy as ordering a latte from Starbucks or depositing a check via cellphone.
For small employers, the opportunities go well beyond modernizing registrations. New platforms and innovations to existing platforms create a more engaging, year-round benefits experience for employees. For example, some platforms are using AI and predictive analytics to deliver relevant benefits to employees when they need them most: accident insurance for a skier with a serious injury; or hospital allowance coverage for someone who has incurred unforeseen medical expenses.
Employers are also increasingly investing in decision support tools that help people navigate the complex benefits choices they face, both during open enrollment and throughout. of the year. These tools, such as Nayya, Jellyvision, and Picwell, evaluate the insurance, savings, and benefit options available to a user before recommending choices that provide an ideal combination of payouts and financial security.
Now is the time for benefits advisors to help small employers seize these opportunities, technological innovations and new approaches to benefits spurred by the pandemic. Twenty-seven percent of people have considered quitting their jobs for improved benefits, according to MetLife. Small businesses now have the resources and opportunities at their fingertips to deliver a quality package and experience, helping them attract and retain talent – ​​and supporting their physical and financial well-being in any climate. economic.
Meg Collins is Director of Growth at Ideon.