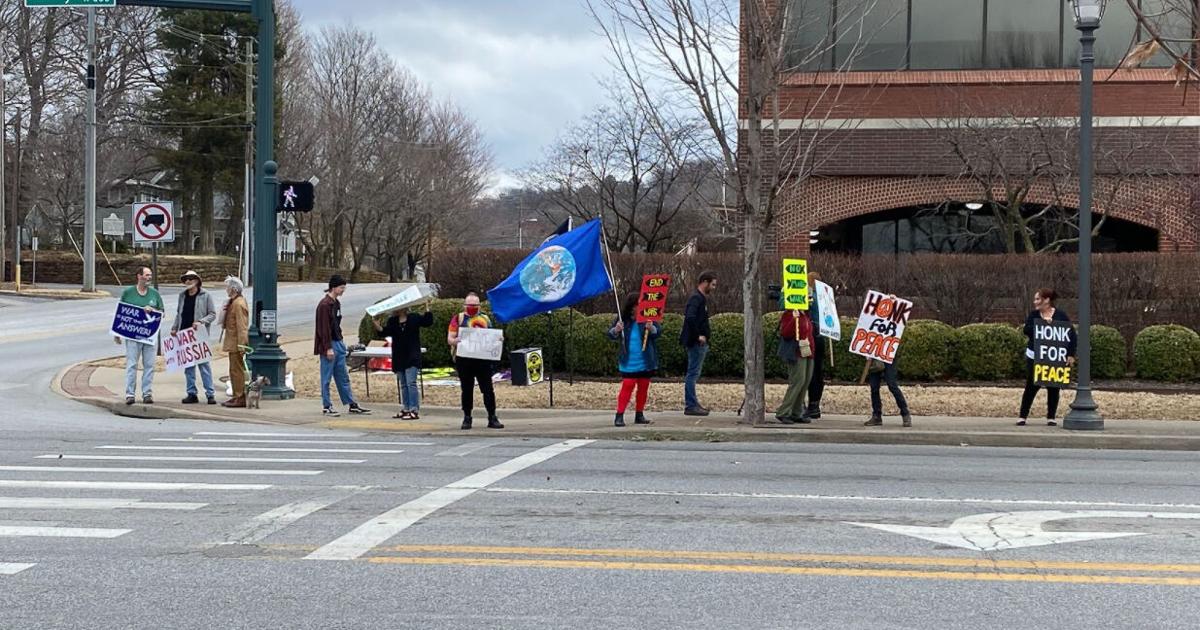 A small group of local protesters perceived the US escalation of the war in Ukraine | News
Twelve community members from northwest Arkansas gathered outside the Washington County Courthouse on Saturday to protest the armed conflict sparked by Russia's invasion of Ukraine and express concern that the involvement West does not start a third world war.
Members of the Arkansas Nonviolence Alliance led the protest. Attendees held colorful signs with phrases such as "No war with Russia" and "Nobody wins nuclear war," and played songs about world peace as cars drove by. Many people driving by honked their horns to show their support for the protesters.
The group's founder, Abel Tomlinson, encouraged the crowd to unite against the escalating war in Ukraine and rising tensions that could lead to another world war. Everyone should be afraid of the possibility of such a war, and Tomlinson organized the rally to call for an end to American and Western involvement in the ongoing conflict, he said.
"The United States is using economic warfare against Russia, trying to shut down the Russian economy with massive sanctions that will end up hurting civilians," Tomlinson said. "We are sending massive amounts of weapons to Ukraine, which is making the situation worse."
Carol Hammon, a participant from Fayetteville, said joining the rally was important to her because she cannot imagine facing another war in which the United States is an active participant. Hammon believes people should come together to avoid larger conflict and choose peace, she said.
"I'm tired of watching what's happening in the world today," Hammon said. "Especially with what's going on in Ukraine, I just can't stand the idea of ​​getting involved in war again, so I just had to come here to remind people that we need peace and that the war is not the answer."
Laura Villegas, a participant from Springdale, does not believe in war and thinks the United States should put its efforts into causes such as humanitarian aid, she said. Villegas also thinks that the United States should destroy its nuclear arsenal and devote the national defense budget to more peaceful efforts.
"I don't believe in war – I think we should disarm, I think we shouldn't have a nuclear arsenal," Villegas said. "I think we should cut our defense budget and spend the money on more things like welfare."
Tomlinson thinks this could be the most dangerous time in history, and a nuclear world war would be unlike anything seen before, he said.
"People have to understand that no one wins a world war," Tomlinson said. "We will all potentially perish, a nuclear winter would block out the sun for 10 years, and all animals and crops would die and we could not live."