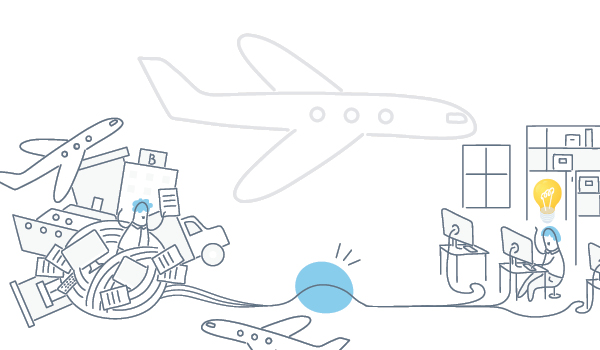 Big ideas for small businesses
Small businesses are taking big steps to meet supply chain challenges.
In the past 15 months, domestic freight transportation costs have more than tripled, said Nathan Vazquez, CEO of Pipsticks, a subscription sticker service. His company currently pays almost as much to move its product approximately 200 miles from Long Beach to San Luis Obispo, California, as it does to ship it from China to Long Beach. On top of that, some established carriers canceled shipments at the last minute.
Vazquez isn't the only small business executive facing supply chain challenges. More than half of small business owners responding to an April 2021 survey by the National Federation of Independent Businesses say supply chain disruptions are having a significant or moderate impact on their operations.
Businesses of all sizes face supply chain disruptions and delays. Larger businesses, however, can take steps that are often beyond the reach of small businesses. The Home Depot, for example, has rented its own container ship.
Supply chain disruptions can be more damaging for small and medium-sized enterprises (SMEs) than for larger ones. "For many SMBs, a shipment might contain all of their inventory or enough product to turn a profitable month into an unprofitable month," says Harris Rainbow, COO at NTG.
In addition, employees of SMEs often manage multiple roles, which limits their ability to resolve logistics issues as well.
Congestion and the lack of containers led to more complicated transit routes. Until recently, some shippers sent international containers directly to their customers' doors. Today, more and more people are taking them to their own facilities and then transferring them to national trucks for delivery.
"It creates more contact with freight, more delays and more costs," said Tim Carey, executive vice president, strategy at Target Freight Management.
Another challenge is a higher number of lost shipments, especially in the LTL network. One reason: Labor shortages mean more workers with less experience are moving packages. This can lead to more errors.
Increase visibility
While the challenges are real, small businesses can meet them. A first step is to increase visibility.
Technology is the key. For example, to combat the post-pandemic buying frenzy that has led to an "explosion" in sales, says founder and CEO Stephanie Carter, Wallaroo Hat Company has implemented radio frequency (RF) scanning to help pack orders. RF scanning allows easier, more accurate and faster tracking of products.
By capturing and transmitting data, technology improves worker efficiency, says John Wirthlin, director of industry, manufacturing, transportation and logistics at Zebra Technologies, a provider of barcode printing solutions, mobile computing and data capture. For example, real-time tracking solutions, as the name suggests, can track the location of workers, items, and equipment such as forklifts in real time.
By linking this data to ordering and transportation systems, the solution can direct workers to select the items closest to them. Then, other transport mechanisms can move the products to a staging area for shipment. Without such a system, workers can walk through much of the warehouse to fill every order.
The emergence of Autonomous Mobile Robots (AMRs) is facilitating the next step in efficiency, says Wirthlin, by eliminating much of the transport of items in the fulfillment process. The worker removes the items from the shelf and places them on the robot; the robot then goes to the next location, perhaps to retrieve another item or directly to a staging area.
"This approach increases the efficiency of order fulfillment and workers and reduces unproductive foot travel time," adds Wirthlin.
Solutions work within SME budgets
The costs of many Industry 4.0 technologies, such as sensors, 5G implementations and artificial intelligence, continue to fall, says Jason Alexander, national manufacturing leader with consultancy firm RSM US. All of these technologies provide greater visibility to operations, allowing for more informed decision-making, he adds.
While technology integrations in the past often consumed the time and attention of shippers, many solution providers today can handle the integration and implementation. "It's the mainstream now," says Wirthlin.
Taking a few steps can increase the chances of successful technology implementation.
First, identify the supply chain issues that have the most impact, suggests Robert Steward, CEO of End2End Solution, a software visibility system. Is this, for example, one of the transfers in the supply chain? Once you know this, you can fine tune your focus.
Second, identify the gaps in your abilities, says Wirthlin. An example: does your company have technicians capable of maintaining the equipment you plan to install? If it is not possible to fill the gaps internally, consider working with a logistics provider who can provide you with the skills you need.
While technology is often part of a visibility solution, there are simple, free steps that can help. To minimize the risk of lost shipments within the LTL carrier network, Carey recommends using brightly colored labels or shrink wrap to better identify shipments at terminals. He and his colleagues can then check to see if the terminals have seen the brightly colored palettes.
Partner with a supplier
To combat rising labor costs, Pipsticks asked their supplier in China to handle many of their product kit requirements. The company also closed its self-managed warehouse in California and transferred its operations to Bulu Inc., a subscription management company located in Lincoln, Nebraska. "They are able to handle order fulfillment and choose and pack in a much more affordable way," says Vazquez.
Logistics providers can help small businesses in several ways. Many third-party logistics providers (3PLs) can justify technological investments that would be out of reach for some companies, as they can spread costs among several customers.
With the increase in ecommerce, many businesses are looking for 3PLs that can integrate with Shopify or other ecommerce platforms. "This has become a standard to ensure the warehouse can process orders on the same day," says Stephen Cagnio, warehouse sales and account management manager at logistics provider Mainfreight Inc.
Logistics providers may also offer expertise, such as in transportation planning, that may not make sense for a small business to keep staff, Harris says.
Communicate and manage expectations
Even cutting-edge technology, stellar processes, and strong partners won't magically alter the logistical challenges facing the world. Supply chain professionals need to communicate with their carriers and customers, manage expectations and often adjust deadlines.
To handle delays of up to six weeks in ocean freight from Asia, Rise Gardens, which offers an indoor hydroponic gardening system, has added delays to its ordering process, said Hank Adams, founder and CEO. This consumed more working capital, but was necessary to keep delivery times reasonable, he adds.
When talking to carriers, the goal is to gain operational skills, explains Carey. For example, if LTL carriers face congestion at a certain terminal, his company will divert other carriers from the area, so the new cargo does not add to the congestion.
Also use a strong mix of national and regional carriers, advises Carey. "No one out there can solve this problem on their own," he says.
Finally, communicate with customers and try to manage expectations or suggest alternative solutions. When shipping delays mean that some popular Wallaroo Hat Company SKUs are out of stock, Carter and her colleagues refer customers to similar products they know are good sellers.
Focus on the future
Many experts expect supply chain disruptions to continue until 2022, Carey says. Supply chain professionals need to leverage technology and processes to improve visibility and flexibility, and manage disruption.
They also need to be proactive, says Hitendra Chaturvedi, professor of supply chain management at Arizona State University. While the stalling and day-to-day management of operations may seem urgent, supply chain officials need to take the time to think about their goal in five years, he says. Then they have to plan how they're going to get there.
Among other steps, this may mean investing in technology and cultivating additional suppliers to hedge against supply risk. While resource constraints are often a challenge, Chaturvedi says, "take small steps first".