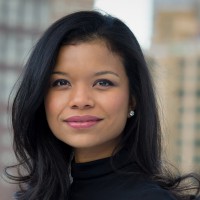 Christina Douglas talks about the first five years of Momentum
There's no doubt that the TV industry is competitive, and it can be difficult for a small prodco to break through the noise and find its niche. In "Small Companies, Big Ideas," Realscreen chats with independents who innovate and thrive, showing the unscripted world that sometimes the best things come in small packages.
Cutting her teeth in the non-fiction screen industry for years, Christina Douglas says that for a long time she knew in the back of her mind that she would eventually take the leap to start her own business.
In 2016, Douglas was head of development at Discovery, having spent nearly a decade with the company in several different departments. At Investigation Discovery, Douglas developed series such as The 1980s: the deadliest decade, evil lives here, and Las Vegas law.
But while working in the role, Douglas said she realized which side of the industry she wanted to work on.
"I preferred to come up with my own ideas and entrust them to production companies. Over time, as these shows came to fruition, I knew ideation was clearly my calling and it was time for me to get my hands dirty in executing my own ideas," said said Douglas.
So, in December of that year, Douglas left Discovery to launch his own prodco, Momentum Content. Almost five years later, like Douglas' work at Investigation Discovery, Momentum has become known for its expertise in real crime projects.
But Douglas says she's confident Momentum can apply the same level of dramatic storytelling to more genres, from hard-hitting documentaries to children's wildlife content. Momentum has done more than 10 development deals in just under five years, and Douglas says she's learned to trust her instincts to invest in unexpected goals, unique viewpoints, and creative mashups.
"When I started Momentum, it was really a special time in my career where I had enough experience to have a crystal-clear view of what kind of content I wanted to create and how to actually do it, but I was pretty naive to take the risk," Douglas said.
Prodco titles include little creatures (Netflix), Primordial instinct (Discovery Survey) and Battle of the 80s supercars (Story). little creatures, a series created by Douglas, won a pair of Daytime Emmys for Momentum, in the categories Outstanding Travel, Adventure & Nature Program, and Outstanding Cinematography.
real screen spoke to Douglas about how Momentum's production has evolved over the five years since its launch and how it seeks to highlight previously underrepresented voices in non-fiction screen content.
This interview has been edited for clarity and length.
How does your past work experience at Discovery influence your work at Momentum now?
I'm so grateful for the experiences at Discovery, because that's where I learned to understand the building blocks of what makes a show successful, especially from a network perspective.
Even today, my first instinct is to see content development as if I were a buyer. I learned from my mentors at Discovery how to analyze and verify concepts. I know there are a lot of great ideas out there, but now I only really jump into new projects when I know we have solid access and an impressive execution plan.
How is Momentum Content's initial direction and strategy different from what the company is focusing on five years later?
I also initially thought I would be a lone developer/creator, but ended up being a talent scout behind the camera, when it came to unique skills that relate to creating certain ideas. My show, little creatures, is a good example, where we brought in world-renowned cinematographer Jonathan Jones. We were able to provide a totally unique viewing experience for families in the animal space.
On a new project yet to come on the market, I'm teaming up with a director of sports photography who offers a visual experience never before applied to the documentary/feature film format. Incorporating amazing creative partners is a big part of my strategy that I didn't originally plan for.
Why was true crime a content area you wanted Momentum to focus on?
Personally, I love true crime as a viewer and as a content creator. It's high-stakes, emotion-driven storytelling. Being a true crime producer, however, means working in a competitive landscape and that keeps you on your toes. You have to be innovative, have access to no one else, think of new points of view and always aim to reinvent the genre. Buyers and ultimately viewers are savvy detectives and demand smart content. I find this to be the ultimate creative challenge.
I also really appreciate that as a storyteller in this space, you have a natural opportunity to illuminate important social issues, often injustices, and shine a light on unsung heroes. This aspect in itself is a cornerstone of my business.
Momentum's work prioritizes shedding light on underrepresented and often misrepresented voices. What are some examples of voices that you consider to be continually underrepresented or misrepresented in unscripted media, and how has Momentum been able to accomplish this goal so far?
As a woman of color, I've always been disappointed by the lack of diversity and representation in front of and behind the camera. One area that's particularly lacking in the unscripted is the on-camera talent department. I saw that the creative world continued to push the same kinds of heroes, while I knew there were authentic and diverse characters that would resonate with mainstream audiences and beyond.
My first foray into this approach took place while I was still at ID. I discovered Detective Garry McFadden and together with the team at Blackfin created I Am Homicide – one of the first unscripted series to feature an African American homicide detective. This experience has boosted my confidence in launching Momentum with diverse voices and perspectives present in all aspects of my productions. For example, little creatures, our animal series with Netflix in 2020, featured an African-American narrator, which is unfortunately not common in the genre. I'm currently producing a series about two Native American women scholars, and I'm developing another project highlighting gender diversity in a traditionally conservative world.
Honestly, over the course of running Momentum, I launched new projects featuring non-traditional stories and characters that I don't think buyers were ready for at the time. I am happy to see that we are now in a new era in 2021, and I am excited to gain traction with projects that address social issues that I am personally passionate about.
Momentum Content went fully independent in 2020 after previously operating through pod deals. Why did you make this decision and what effect has it had on Momentum's work?
I was fortunate enough to be associated with such incredible companies during my early Momentum years. My pod deal partners have really helped me bring my big ideas to life and gain experience in executing top-notch content. Now it is strategic for me to be more agile in my co-productions, working with talented companies and individuals who are best suited to creating each specific project. Simultaneously, I'm building my own back house for projects that are Momentum only.