Christmas in a small town not so small | News
IMPERIAL – The annual Imperial Christmas in a small town drew a multitude of families and friends who filled Imperial Avenue between 6th and 10th Street on Saturday, December 11.
"We have partnered with the Imperial Valley Regional Chamber of Commerce for this event," said Alexis Brown, Deputy City Manager for the City of Imperial.
"It's business and community that come together," she said.
According to Brown, 127 vendors representing small businesses, restaurants, locally grown produce, crafts and services were in attendance.
The goal was to make it easier to meet friends and families to spend time together, according to Brown. Individuals, dressed in Christmas costumes, walked with sacks of kettle corn as they visited vendors. The taco, kettle corn and beer vendors had long lines. The champurrado, a hot porridge, ran out quickly.
"We are the small town with a big heart," said Robert Amparano, member of the city council. There was no Christmas in a small town last year because of the COVID-19 pandemic. He estimated the crowd to be around 5,000 – which is about a quarter of the population of the city of Imperial, according to the US Census Bureau in April 2020, which indicates that the population of Imperial is 20,263.
"Everyone seems to be having a good time," Brown said.
the Kelley and Lorenzo duo open for the Stiletto headband: a rock tribute, a local Imperial Valley band specializing in 80s rock music like Bon Jovi and Motley Crue.
The Stiletto band was formed about three years ago, said bassist and manager Todd Finnell. All four have professional day careers but love what they do, playing 80s rock. Finnell is the county school superintendent; Sergio Perez, singer and guitarist, works in the Imperial County Public Works Department; Mike Lizarraga, lead guitarist, is a retired probation officer; and the drummer, Max Sheffield, works with the Imperial Police Department.
The north end of Imperial Avenue was packed with children and their parents queuing up, eager to sled down the Imperial Snow Run. The children had different reactions to the ride – excitement, screaming, silence or hugging their mom or dad with them on the icy slope. Parents took pictures of their children. For many sledgers, the ride was smooth. But others had bumpy rides, and city workers immediately flattened the bumpy section with shovels.
"We were going down and had a bump and went sideways," said Casey Derrick who rode with her 2 year old son Bradley. But within moments, assistance arrived and they covered the remaining distance. "We had fun on the slide."
"It was quick and quick. It was a treat, "said Jennifer Moreno, who tobogganed with her 6-year-old daughter, Baylee.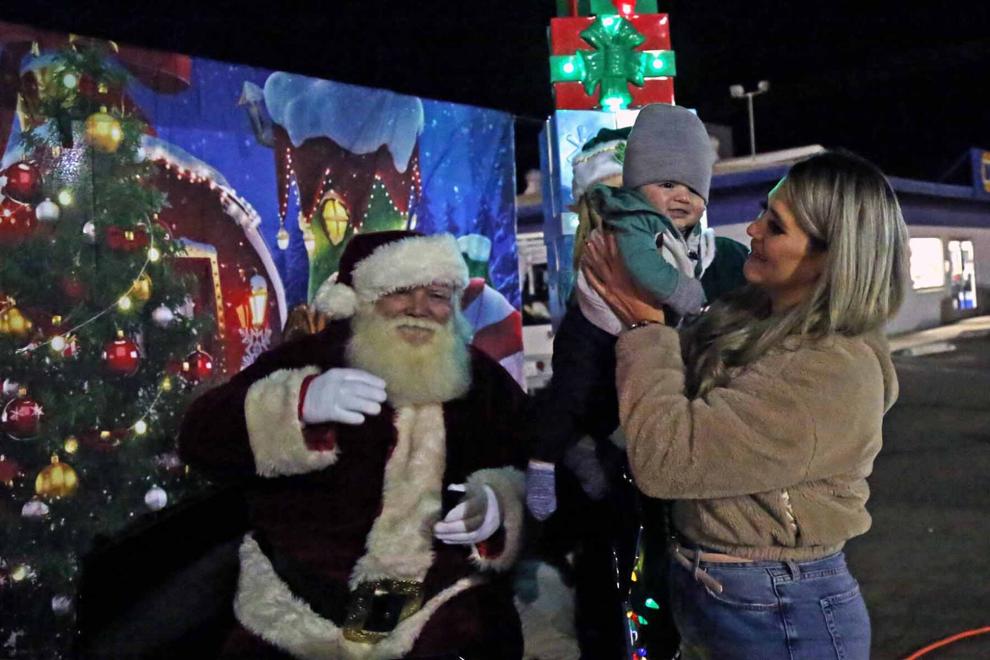 Mayra Escobedo had her 3 month old daughter carried by Santa Claus and her elf helper to take pictures. The baby smiled. It was close to closing time at 9 p.m.
"We were excited to kick off the Christmas holiday season with this regional event, and hope everyone enjoyed the evening," said Brown.