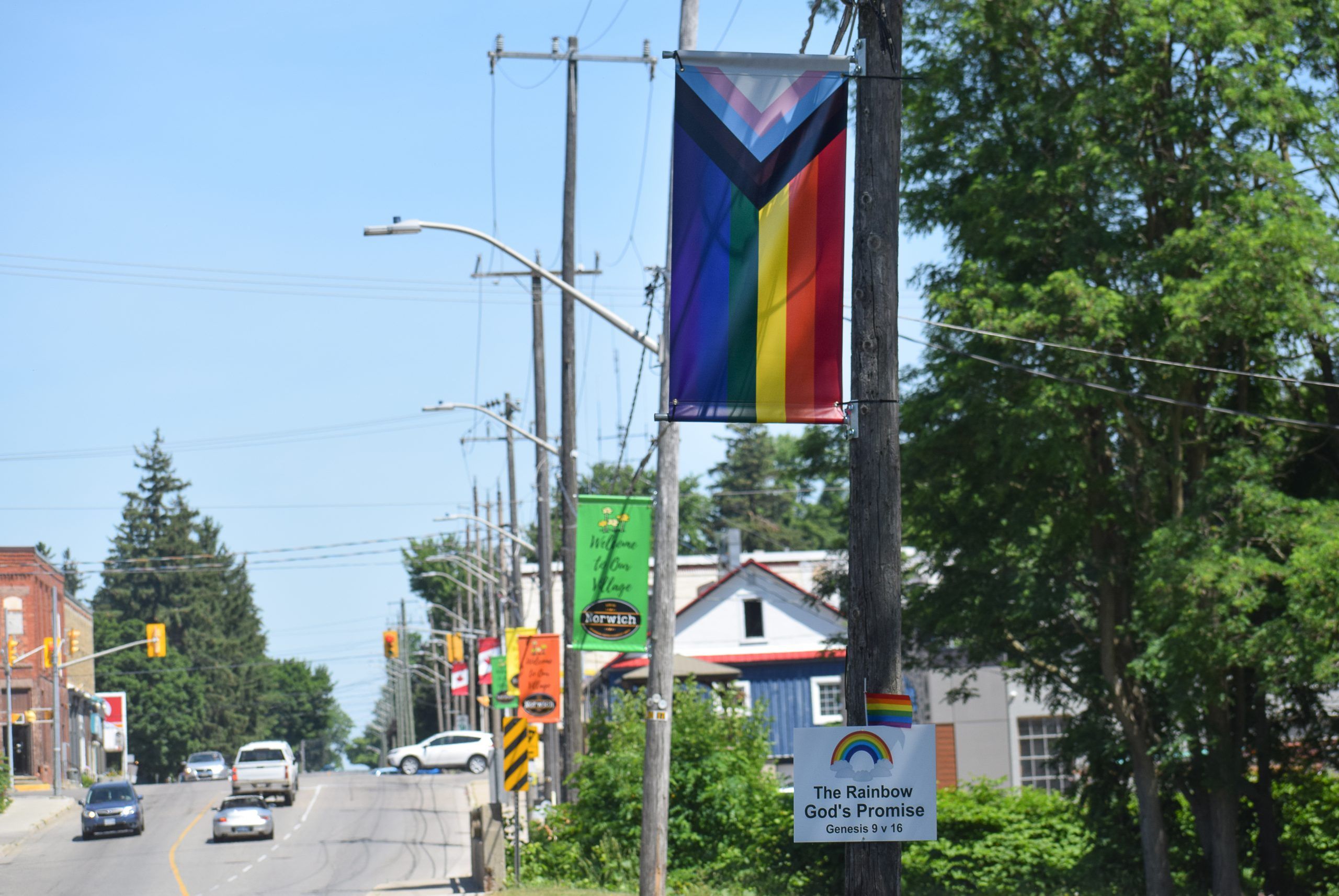 Defiance and dismay mark local small town's efforts to tackle anti-LGBTQ+ incidents
Content of the article
NORWICH — There was a sense of relief — and some trepidation — as residents gathered in this rural southwestern Ontario town on Saturday to celebrate the reinstallation of the Progress Pride banners, a symbol of LGTBQ+ support , after several were recently stolen and a fury broke out at the hands of local elected officials.
Content of the article
The township's Business Improvement Area, along with the volunteer-run group Norwich for Love and Acceptance, mounted two of the banners in their community of 11,000 people on Friday, about a 45-minute drive southeast of London : one at the post office on Main Street and the other near a Home Hardware on Stover Street. On Saturday, a dozen residents gathered to mark their return.
"It feels good. It's fantastic," said Brian Kennedy, one of the community group's lead volunteers. "It's also a relief to see them coming back because when a crime like this happens and that it is not rectified, it is very discouraging and it leaves a stain on the community.
"So having them back is a sign that the community stands up for what's right and that we're working together to promote a safe and inclusive community."
Content of the article
The original Progress Pride banners on display were stolen in the space of four days in late May. Oxford OPP charged Jacob (Jake) Dey, 47, with theft under $5,000 and a 16-year-old from Norwich with two counts of theft under $5,000.
The township has repeatedly been the target of anti-LGBTQ+ incidents since then, the latest involving a 30-minute delegation from Dey at a city council meeting last Tuesday. Dey, who owns a farm equipment store near Tillsonburg, spoke for nearly half an hour — he had 10 minutes — about his opposition to the LGBTQ+ community, at one point comparing Pride as a "social movement to Nazi Germany.
The township mayor expressed regret for allowing Dey to have a podium at the meeting. Provincial police said they were looking into the meeting. "I can tell you that we are aware of the council meeting and the information is being reviewed at this time," said Oxford OPP Const. says Patti Cote.
Content of the article
Following the recent incidents, Kennedy and other concerned residents have formed a Private Citizens Group. Part of the group, he said, involves members who voluntarily take shifts to regularly monitor new Progress Pride banners.
"We were out until 2 a.m. (on Friday night). There were about five or six of us," Kennedy said.
Jeff Ducharme and his wife were among those patrolling the area. The longtime Norwich resident said he decided to get involved with the group after a Pride flag was flown from his porch earlier this month.
Similar to Kennedy, he described a sense of relief upon seeing the new banners on display. "It's fantastic. My daughter is happy and my son is happy," Ducharme said, adding that "it's mixed with a bit of apprehension" because they have to watch them.
Content of the article
Kennedy wants to remind people that pride — and the fight against hate directed at the LGBTQ+ community — goes beyond June.
"We all have a role to play," he said. "It's Pride Month and it's about to end, but these issues, and standing up for inclusivity and our community, have no deadline."
The citizens' group hopes to see the Progress Pride banners remain in place until the fall.
The Progress Pride flag represents a larger group than the traditional Pride rainbow flag. It includes the addition of chevron-shaped half-size bands, representing trans individuals (light blue, light pink, white); marginalized people of color and indigenous peoples (brown, black); and those living with AIDS, those who are no longer living and the stigma that surrounds them (black).
twitter.com/CalviatLFPress
The Local Journalism Initiative is funded by the Government of Canada