Gotham Winner Morello's Owners 'Just a Small Group of Saratoga People Running Against the Big Dogs' – Up News Info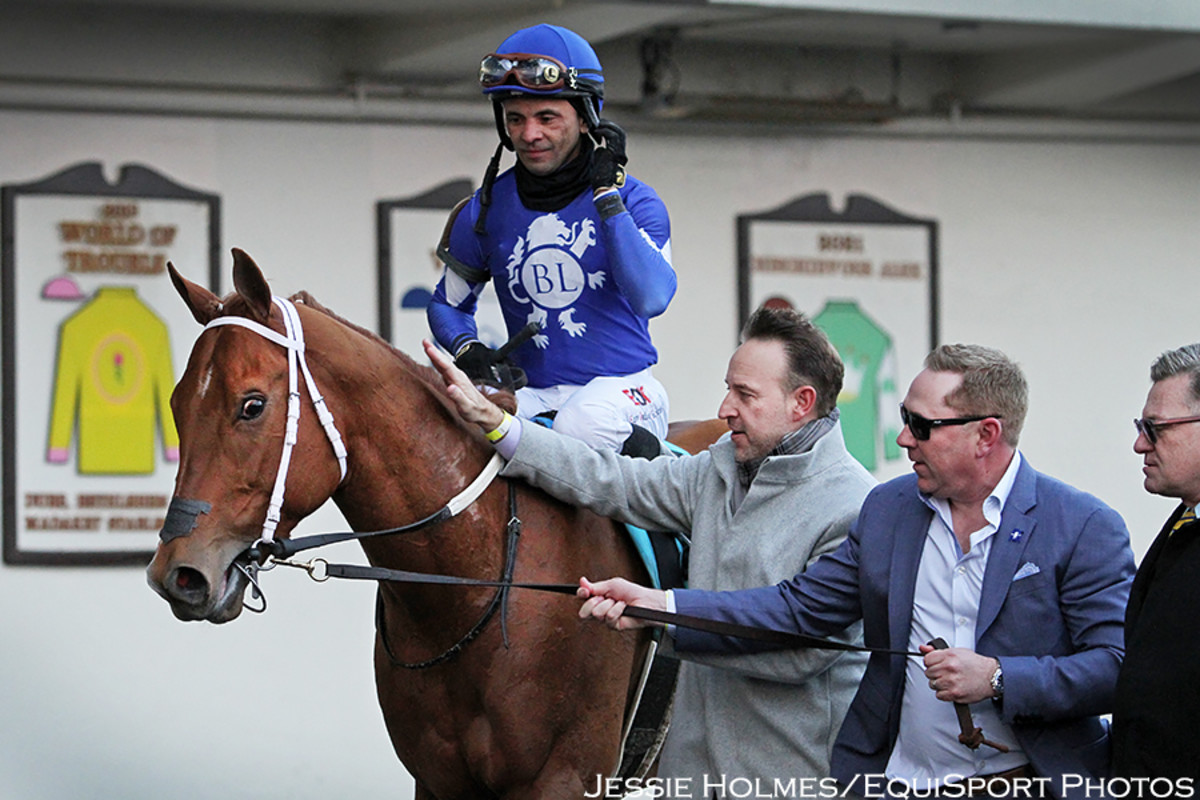 Morello (Classic Empire) and jockey Jose Lezcano win the Gotham (Gr III) at Aqueduct Racetrack on 05/03/22. Coach: Steve Asmussen. Owner: Blue Lion Thoroughbreds, Craig Taylor and Diamond T Racing
Diamond T Racing thoroughbreds Blue Lion, Craig Taylor and Morello recorded a career-best 96 Beyer speed figure in winning Saturday's 3rd Grade, $300,000 Gotham, at Aqueduct Raceway.
Coached by Hall of Famer Steve Asmussen, the classic Empire colt stalked and pounced a score of 4 1/2 in the mile of a sophomore lap to earn 50 points from qualifying for the Kentucky Derby. He currently sits fourth in the Derby standings.
Asmussen, who is still looking for a first score in the Kentucky Derby, also conditions Epicenter of Winchell Thoroughbreds, who lead the Road to the Kentucky Derby standings with 64 points.
Morello is perfect in three career starts – all at the Big A – starting with a first six furlong sprint score in November before a five-length run in the seven furlong Jimmy Winkfield on February 6.
The next local stop on the road to the Kentucky Derby is the $750,000 nine-stadium Grade 2 Wood Memorial on April 9, which offers 100-40-20-10 Kentucky Derby qualifying points.
Toby Sheets, Asmussen's Belmont-based assistant, said after Saturday's test that the talented chestnut should be able to handle a stretch from a distance.
"I don't see why not. He definitely acts like that," Sheets said.
Sheets said Morello, who has worked almost exclusively on the Belmont dirt practice track since June 2021, has continued to improve with his racing experience.
"Since he got here and through his last three races he's really matured," Sheets said Sunday. "He looks good this morning. He ate and everything. I'm happy with him."
Bred in Kentucky by Robert B. Tillyer and Dr. Chet Blackey, Morello, of the Congrats Stop the Wedding mare, was purchased for $250,000 at the Fasig-Tipton Midlantic 2-Year-Olds in Training sale.
Morello, who should now have enough points to make the "Run for the Roses," could also be a formidable contender in the Grade 2 Pat Day Mile on the Kentucky Derby undercard.
Blue Lion Thoroughbreds' Dave Lyon said after Saturday's score that he would leave that decision in the capable hands of North America's winningest coach.
"We will not hinder the coaches. If they tell us we'll go a mile, we'll go a mile. There is also a nice mile race that day. We'll see what happens," Lyon said.
Co-owner of Manhattan-based real estate appraisal firm Metropolitan Valuation Services, Lyon grew up in Saratoga Springs, New York. A Saratoga Springs High School alumnus, Blue Lion Thoroughbreds' blue and white silks are a nod to his alma mater.
Lyon said on Saturday he was pleased with the trip organized by jockey Jose Lezcano to overthrow a formidable field of 10 that included Progressive Stakes winner Rockefeller, a troubled 10th for Hall of Fame trainer Bob Baffert; with the dean's list [2nd] and golden code [3rd] for Hall of Fame coach Todd Pletcher.
"I like that Jose left a bit more in the tank," Lyon said. "It was good ground. Baffert sent a horse across country and Pletcher had two horses…we are just a small group of people from Saratoga racing against the big dogs and we got the alpha today.
In addition to Morello, Blue Lion Thoroughbreds also co-own Fromanothamutha, trained by Ray Handal, who finished seventh in Gotham, and the impressive 4-year-old Disco Pharoah, who graduated from 19 1/2 lengths in Saturday's Opening Race.
By American Pharoah and out of mare Mineshaft Somalia, Disco Pharoah fought on the third call in a special maidenweight 6 1/2 furlong that won an 88 Beyer. Disco Pharoah is a half-brother to multiple graduate stakes winner Miss Mo Mentum.