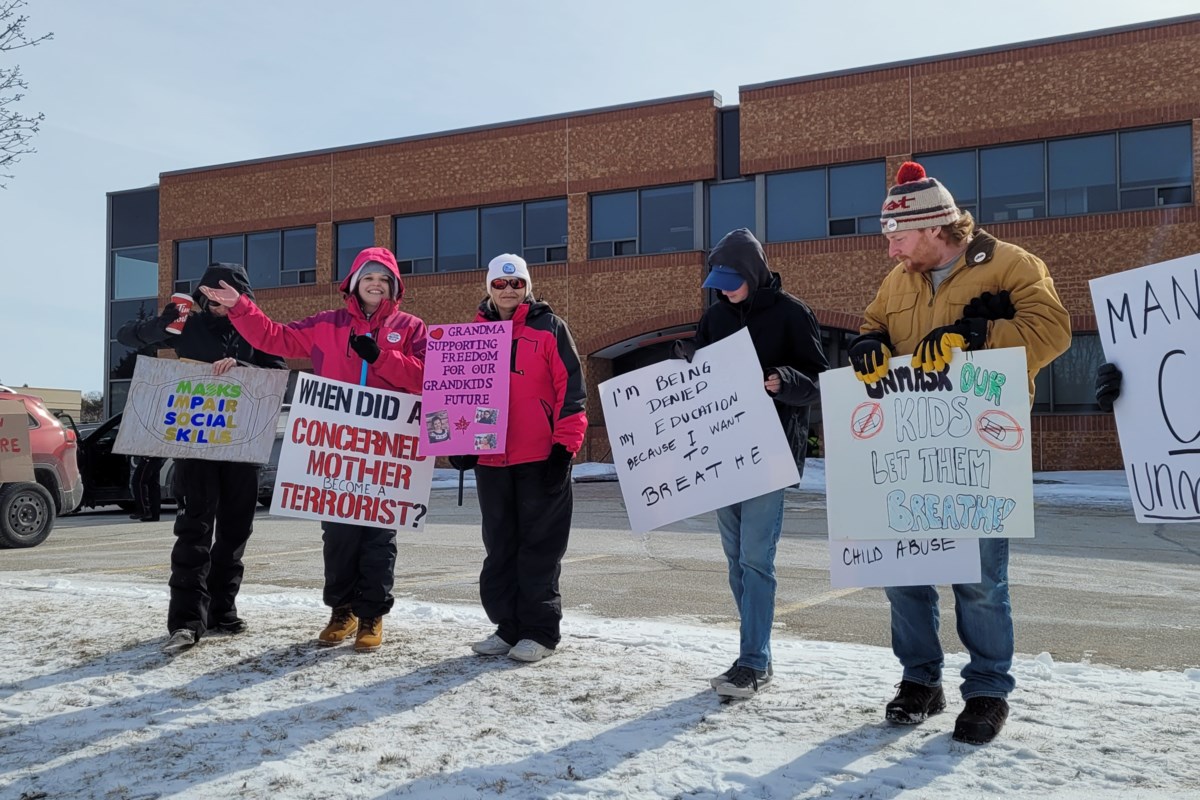 Small group against masks for children during school protests in front of the health office
A group of eight protesters gather outside the offices of the Barrie health unit; Medical Officer of Health says offices are closed as a precaution
An anti-mask protest on Sperling Drive in North Barrie on Monday forced the Simcoe Muskoka District Health Unit to close for the day.
The protest was specifically against mask requirements for children in schools and for families to at least have the right to choose whether their child should wear one.
A woman who identified herself as Krystal was one of eight people at the protest which included parents, children and grandparents. She said BarrieToday the main reason she was there was to educate people about the disadvantages of masks on children, especially those with learning disabilities.
"The effects on social and emotional understanding and development is something that I don't think doctors take enough time to examine," Krystal said. "My child has ASD (autism spectrum disorder) and he struggles with social and emotional understanding.
"The fact that he wears a mask all day prevents him from being able to express himself and express his emotions," she added. "He's not able to pick up social signals which are sometimes easy for us to understand, but even harder for him even without the mask as a barrier. It's almost impossible for him now."
While group members said more parents needed to be at the protest, some had jobs or other reasons why they couldn't attend. However, the group said they did not understand why the health unit offices were closed for their small assembly.
BarrieToday contacted the health unit and asked if the shutdown was protocol, regardless of the scale of the protest.
In a statement, local Medical Officer of Health Dr. Charles Gardner said the safety of health unit staff is always an important consideration, as is fulfilling their mandate to protect and promote health in the community. .
"Throughout the pandemic, the majority of our staff have been successfully working from home. With this protest, we have all staff who normally work from this office who can work from home to do so today as a safety measure," he said.
A 13-year-old student from Alliston, who identified himself as David, said he was suspended and sent home for having his mask under his nose.
"I feel like if I can't breathe properly, I should be able to choose whether to wear it or not," he said. "I wore it, however, right under my nose."
All other Health Unit offices and the Health Connection line will remain open today during regular business hours, 8:30 a.m. to 4:30 p.m. Health Connection can be reached at 705-721-7520 or 1- 877-721-7520.