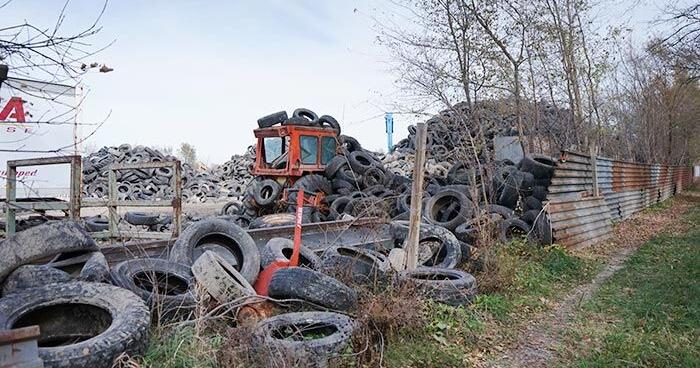 Tire Fire: Small Town Tire Fight Turns Into an Uphill Battle for Democracy | News
Brandy Jordan moved to "itty-bitty" Alvo in 2020, seizing the opportunity to purchase a three-bedroom home with her husband, Nathan, and two young children. She imagined living a quiet life in this village of 115 people sandwiched between Omaha and Lincoln.
She hadn't anticipated that a small-town brawl over a gigantic pile of tires on the outskirts of town — an environmental hazard that prompted state law enforcement — would turn into a something far beyond the old Goodyears.
At the end of last year, the Alvo Village Board was legally required to hold a recall election for two board members – then simply chose not to let village residents vote.
This sparked a lawsuit by a well-known Nebraska attorney, forcing Alvo to hold the election. This prompted a new bill in the Nebraska Legislature aimed at ensuring nothing like this happens again.
The bitter battle continues amid a flurry of allegations. Recall leader Dennis Tempelmeyer said Larry Langer, a board member in the village targeted by the recall and owner of the tire pile, threatened to kill him. City leaders misplaced funds after several known embezzlements and ignored calls for financial transparency, others said.
Board members, meanwhile, said they acted in good faith. They blame a lack of civil public participation for Alvo's current situation.
The problems began in 2015, when Langer and her business partner Beth Ann Rose, who run a recycling facility in Alvo, began hauling old tires onto their property.
Tempelmeyer complained. The Nebraska Department of Environment and Energy checked and found that Langer's company was stockpiling far more tires than was allowed to hold. In April, the owners of the tire pile agreed to halve an inventory of tires that had grown to around 323,000.
In November, drone footage showed the dug out fire lane covered in tires. A state report said the tire pile appeared to be growing again, although Langer's son, Pete Langer, told officials it was below the legal limit.
Tempelmeyer has repeatedly disputed the noise and runoff caused by the company. He argued that Langer has conflicts of interest on the village council and thwarts efforts to clean up the tire pile. Those disagreements repeatedly turned dangerous, according to police and Tempelmeyer reports.
Several years ago, Tempelmeyer called Langer's business partner to ask him to slow down while driving. Langer "then came flying right into my driveway, threatening to kill me and my son and burn my house down," Tempelmeyer said. Sheriff's deputies told Langer to stop, Tempelmeyer said.
Last year, Langer reportedly nearly ran over Tempelmeyer and Brandy's husband, Nathan Jordan, with his dump truck during a visit by the planning and zoning committee to the Langer junkyard. A committee member called the county sheriff. In the resulting police report, a witness said Langer sped towards Tempelmeyer and Jordan. Langer said he hadn't seen them.
"He's a bully," Tempelmeyer said. "I don't run away from bullies."
Tempelmeyer filed a recall motion against Langer last August. A month earlier, resident Cathina Reeves filed a recall petition against village council president Robin LaPage, alleging she embezzled funds and misused public records.
LaPage and Langer sent letters to residents of the village saying the allegations were false. The Flatwater Free Press has requested interviews with both board members. LaPage interrupted an in-person conversation and hung up or did not answer subsequent calls.
In a brief chat after the December meeting, Langer told the Flatwater Free Press that Tempelmeyer was "lying and wrong." In a subsequent phone call, Langer agreed to an interview. He then went unanswered eight calls and four text messages in December and January.
For a recall petition to proceed, Nebraska law requires it to reach 45% of the highest number of votes a council member received in the last election.
For Alvo, that meant 17.1 votes.
Leaders of the effort collected 25 validated signatures from registered voters to recall Langer. Twenty-six residents signed the petition to recall LaPage.
Cass County Elections Commissioner Linn Moore updated the council on the accepted petitions. She included pages of statutes providing that the governing body "shall…order an election" within 21 days.
In October, LaPage announced that the board needed to take action on the recall petition. Without explaining the law, she said, "We have to vote yes or no, regardless of whether we have a recall election."
"It's going to cost the city thousands of dollars, which we don't have," LaPage said later.
The five members of the council then voted unanimously: Election without recall.
In an interview, Moore blamed LaPage for the seemingly illegal decision not to stage the recall.
During their conversation, LaPage "kept twisting" what the statutory language of "must" means, Moore said.
"She's already made up her mind about what she's going to do, no matter what anybody says," Moore said.
The village recently fired its longtime legal adviser, Roger Johnson, citing charges.
Johnson, who represents several small towns, thinks Alvo executives simply misunderstood the law. "I don't think you can convince me that they acted knowing they were doing something they shouldn't have done," he said.
Others disagree. Plaintiffs' solicitor David Domina said the council flouted the law with "ruthless arrogance" for months until a judge forced them to comply in December.
To understand how confusing and personal this fight has become, look no further than the actions of Alvo board member Mike Lanctot.
Lanctot initially voted not to hold the recall election for fear of cost. However, weeks earlier he had actually signed the petition to recall Langer in the first place.
Lanctot said other board members tried to discuss Langer's business compliance with village ordinances, but Langer did not respond at public meetings.
"I think he was trying to use that advice for his own personal gain and not for the best interests of the city," Lanctot told the Flatwater Free Press.
The village planning and zoning committee listed Langer's case for 24 violations. LaPage said the council could not afford to enforce them.
Alvo seems to have serious financial problems.
In 2017, the Nebraska Auditor's Office uncovered evidence that a former clerk had embezzled more than $100,000. Then, LaPage said, another clerk didn't send out water bills for nearly a year, costing the city a major source of revenue, though residents said another clerk had recovered most of the payments later.
In 2020, board member Ben Glantz was found to have wrongly received reimbursement for his personal expenses, including his mortgage, according to auditor records.
Every year, Alvo receives money from the state for the streets. In 2021, he got $20,222. Resident Cathina Reeves, who works for the Department of Transport, filed requests for bank statements to determine how that money was spent. Reeves said she never received a response from the board.
State accountants identified accounting errors in the village's most recent audit waiver. In an email to LaPage, the auditor's office said the street funds – earmarked for road repairs and maintenance – were "spent as if they were general funds".
In the recent letter sent to village residents, LaPage said street funds were simply deposited into the general fund account.
As the village fights for funding for the street, the town's main street continues to crumble.
The first street was paved when Reeves moved to Alvo in 2018. Now it's dirt and rubble.
Nebraska Department of Transportation official Jodi Gibson said the annual street fund allocation "doesn't go far." A mile of paved asphalt can cost $800,000. "A lot of counties and municipalities … are saving up so they can afford a project," Gibson said.
Far from saving, the village of Alvo is mired in debt.
At the June meeting, Ryan Anderson, former chairman of the village council, said the state allowance should have paid off the road loans. Reeves contacted board member Gary Marcoe, who shared emails showing the village then owed at least $100,000 in street loans and other loans. Marcoe says he doesn't know where the money went.
"I don't know if that money was missing, or where it went or what," said Marcoe, who was a member and not a board member before being re-elected in 2020. "I have no idea. ."
The village's perilous finances have been repeatedly advanced as a reason to avoid prosecution or hold recall elections. Finally, this election to determine the fate of the two members of the board of directors will take place on Tuesday, February 15.
LaPage said Alvo would spend up to $21,000 on the recall. Much of this cost comes from legal fees that Alvo could have avoided had the village council originally voted to hold the election.
Instead, many board members blame Tempelmeyer for the lawsuit and the financial burden.
At the December board meeting, LaPage told Tempelmeyer, "You cause so much grief by stirring things up."
The Flatwater Free Press is Nebraska's premier independent, nonprofit newsroom focused on investigative and important reporting.